Watch how Bush immediately goes into a semantics game to explain Abu Ghraib. Apparently asking this question means you are slandering America....
GEORGE W. BUSH: This was a law passed, Adam. We passed a law. Bypassing the Constitution means that we did something outside the bounds of the Constitution. We went to the Congress and got a piece of legislation passed.

REPORTER: Which is now being struck down, I think.

GEORGE W. BUSH: It is, and I accept what the Supreme Court did, and I necessarily don't have to agree with it. My only point to you is, is that yes, I mean, we certainly wish Abu Ghraib hadn't happened, but that should not reflect America. This was the actions of some soldiers.
The question unanswered is this, Georgie. WHY did you get Congress to pass a law bypassing the Constitution? WHY was there this odd need to torture? WHY?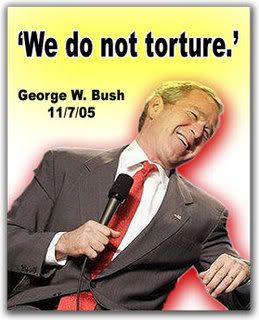 Shorter Bush: We wanted to torture so we changed the meaning of the word so it wasn't called torture so we didn't torture so we could watch the tapes of ... uh ... it was the soldiers that did it!
crossposted at
Rants from the Rookery