(edited to include this necessary pic)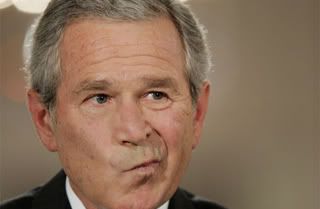 Unka Dick is going to do it.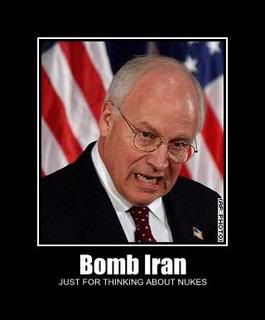 WASHINGTON - The White House on Tuesday denied a published report in

Israel

that said

President Bush

intends to attack

Iran

before the end of his term in January.
A story in the Jerusalem Post quoted a "senior official" there as saying that Bush plans to attack Iran in the coming months. The story says the unidentified official claimed that a "senior member" of Bush's traveling entourage made the statement about attacking Iran in a closed meeting. Bush was in Israel last week.

The article also says the unnamed Bush official said that Bush and Vice President Dick Cheney "were of the opinion that military action were called for."

[snip]

Perino said the "president of the United States should never take options off the table, but our preference and our actions for dealing with this matter remain through peaceful diplomatic means. Nothing has changed in that regard."
Diplomacy? Isn't that appeasement to Georgie? I think this means we're going to attack Iran before the year is out.
And McBush apparently doesn't give a fuck who is actually in charge in Iran:
Yesterday, the Wonk Room's Matt Duss noted that Sen. John McCain (R-AZ) often incorrectly portrays Iranian President Mahmoud Ahmadinejad as if Ahmadinejad has a significant role in formulating Iranian foreign policy. He doesn't. Iran's supreme leader, Ayatollah Ali Khamenei, and Iran's National Security Council set Iran's foreign policy.

Yesterday, Time's Joe Klein pressed McCain on the issue, but McCain refused to concede he was wrong, saying he disagreed that Khamenei runs Iranian policy behind the scenes. McCain added that because the "average American" thinks Ahmadinejad is Iran's leader, that's good enough for him:

MCCAIN: I mean, the fact is [Ahmadinejad's] the acknowledged leader of that country and you may disagree, but that's a uh, that's your right to do so, but I think if you asked any average American who the leader of Iran is, I think they'd know.
Ahmadinejad? Khamenei? What does it matter if we're going to nuke the place anyway?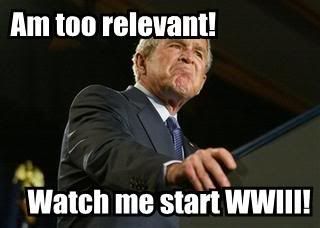 crossposted at
Rants from the Rookery